Jurassic World: Dominion Dominates Fandom Wikis - The Loop
Play Sound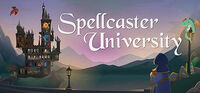 Spellcaster University is a game created and developed by Sneaky Yak Studio. It was published on September 24, 2019 on Steam Early Access. The 1.0 version of this game was released in June 2021.
Please peruse this wiki at your leisure. There's not that many nerds around who'll contribute to such a, well, nerdy endeavour, but we're here. And we'll (eventually) get things to a readable state(tm).
About
[
]
"In Spellcaster University, you take on the role of the director of a magic university in a colourful world of heroic fantasy. Build your school, manage your budget, recruit teachers. Will you turn it into a black magic academy, with the best professors of necromancy and demonology? Or a place in harmony with nature to train druids and shamans? Or why not train adventurous mages, offering them options to learn how to fight and be stealthy? But this will require surviving the ruthless attacks of the orc tribes and the controls of the education authorities." - Game description on Steam
TL,DR:
[
]
Spellcaster University mixes tower building (roughly think Fallout Shelter), rogue-like NPC events, occasional L.O.R.D. style/deck-building dungeon crawling (VERY clumsy, rather rare, and unpolished btw!), and juggling ever-worsening Rimworld-like character traits - while the "Evil is coming!"-deadline keeps ticking down and you're supposed to fulfill up to 3 quests until you're forced to abandon your current University and start from scratch on the next map.
What's ...More?
[
]
Depending on your success with said quests (zero to 3), you'll then (possibly) choose a random "trait" book, and (certainly) a random "curse" book, taking the effect of both the books - and your graduated student's achievements - to the next map in your campaign. Those effects cumulate, meaning, things can be stupidly easy at one point, then turn your whole campaign into a quagmire of hatred on the next map.
To spice things up, you can choose to make things even more complicated for yourself from the get-go: your students could learn slower, the Evil Lord's progress is faster, magical "accidents" happen more frequently, you name it: while the main Student Career Challenge usually is your main focus, you can sprinkle on some Extra Campaign Headaches why don't you.
How to get started
[
]
At first, in the main menu, you're faced with a terrible decision: Campaign, or skir--Quick Play?
Tl,dr: is - one map, one ruleset, vs a chain of maps, stacking +/- of each.
Now let's do an "easy" sample first campaign map in theory ;)
Screenshots
[
]
System requirements
[
]
Mac OS X
[
]
OS: OS X Lion
Processor: Intel i3-2100
Memory: 4 GB RAM
Graphics: GeForce GTX 630 / Radeon HD 6570
Storage: 2 GB available space
Windows
[
]
OS: Windows 7 or better
Processor: Intel i3-2100 / AMD A8-5600k
Memory: 4 GB RAM
Graphics: GeForce GTX 630 / Radeon HD 6570
Storage: 2 GB available space
Linux
[
]
Make your own educated guess. And please refer to ProtonDB for further details if it doesn't Proton right out of the box for you  ;)
See also
[
]